My Radio Toys
The pile of things I've collected so far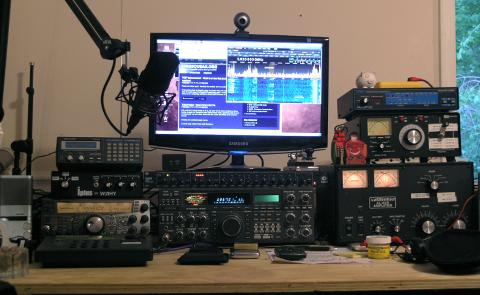 Rigs
Kenwood TS-680 - My first rig, still kicking and is the Field Day and loaner special
Yaesu FT-857D - My mobile rig
Yaesu FT-1000MP - The first rig to really open my eyes to the bands (sold it)
Kenwood TS-2000 - Love this thing.  It may not be the best at any one thing, but it does it all.
Kenwood TS-940 - Bought this for the IF output for my LP-Pan experiments.  It was my gateway into SDR and is my current favorite for use as my transmitter.
QS1R Quicksilver - My new baby, the SDR receiver I use like a boat anchor pair with the 940
Yaesu FT-7800R - My first dual-band mobile rig for 2m/440
Yaesu VX7R - My handheld for VHF/UHF and general scanning
Realistic Pro-2006 - Classic base scanning receiver...still ticking along.
Assorted other toys
Tigertronics Signalink USB - Computer soundcard interface for psk/mfsk/olivia/packet, you name it, it can do it.  Software based digital modes interface.
AEA PK-232 - Nice old TNC.  Sometimes ol' reliable can come in handy...though mine needs a bit of TLC right now.  Basically like a dialup modem that transmits over RF
BHI ANEM - An AF based DSP noise reduction unit.  Pretty amazing what this can do to the receive quality of an older unfiltered rig.
Palstar AT1KM - Manual tuner covering from 160m up through 10m  One of my favorite pieces.
Ameritron AL-80B - 1kW linear amplifier with a single 3-500Z tube.  Works great.
Antennas
Various wire antennas - Currently my mainstay is a 300' balanced doublet fed with 450Ohm window line via a 1:1 DX Engineering balun with coax back to my manual tuner.
GAP Titan - Vertical antenna, ground mounted, covering from 80m through 10m...not the best, but it is nice having a vertical to play with.