Got a Samsung Moment - Having Fun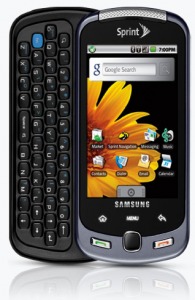 So I put this off for a while and I'm a bit late to the game for getting an Android based smart phone. I decided on the Samsung Moment for a few reasons.
I'm a Sprint customer so for an Android phone I was limited to two choices at this time, an HTC Hero or the Samsung Moment. The Hero is a bit slower, but generally has a reputation for having a slicker default theme/skin to the OS. The Moment is faster as it is a newer generation of CPU and runs at 800MHz and has a generic 1.5 release of Android on it as stock.
The biggest deciding factor for me was that the Moment has a slide out keyboard. As I do a ton of texting and email, sometimes more than a page of text at a time, a 'real' keyboard was important for me.
The fact it has a more generic Android release was also a prime motivator as the phone manufacturers love to promise timely updates as the OS is updated, but seldom deliver. I figured sticking to a platform that supports the generic load would make installing hacked releases a lot easier in the long run.
For the highlights as I usually do, I plowed into any available material I could find on the Moment and Android in general. I already knew there was quite a lot of hacking on the kernel and OS in general going on so I dug in to figure all of that out.
So far, I've modified the kernel and base OS in a few ways and have come up to the following configuration.
Stock Sprint CL14 release of the firmware which contains numerous patches and bug fixes. Modified Zeffie Kernel ZE13.2 and I've installed SetCPU from the marketplace to overclock the phone.
The performance with this latest update is indeed noticeably faster. I have the profiles configured to throttle on-demand with max speed while plugged in at 1600MHz and 1066 for when the charge is over 40%. I also set the throttling to 800MHz if the battery temp gets high and lowered it quite a lot while the phone is 'sleeping'.
Only time will tell how the stability is and battery life is overall with the ramped up specs, but initial impression is that it's stable. I'll know more about battery life in a day or two.
I came from being a pretty dedicated Blackberry user and had already made the mistake of trying the failure of the Samsung Instinct, which had a completely miserable OS with a lot of bugs and an unusable user interface with horrific lag to touch screen input. Luckily Sprint got me back on a Blackberry Curve with less drama than it usually takes to get customer service from them ;-).
Initial impressions of the Android system are rather incredible. I'm a very heavy SMS and email user and this phone is really great for this. Gmail 'native' is supported in a push form for a single Gmail account and this syncs not just the mail but all my contacts from Gmail as well as my Google calendar bi-directionally. Perfect. I'd run Google Sync on the Blackberry so wiping it and firing up the Moment just brought all my contacts back automagically.
For corporate mail, Sprint includes Moxier Mail to interface with exchange. This also worked perfectly and is in push mode with the corporate Exchange server. I get my contacts/mail/calendar all through this app.
For my remaining other gmail and assorted email accounts, there is a POP and IMAP capable app also installed and I have that set to poll via IMAP for my other accounts. This too is working very well.
For SMS, the stock client is fine, but I stumbled upon Handcent SMS which delivers a whole pile of enhancements vs the stock Android client. You can customize all manner of notifications and interface colors and layouts. Highly recommended.
All the apps can be installed simply by using the Android Marketplace which can be searched/surfed via the phone, or you can alternately use Androlib to do some searching from your desktop.
A LOT of really decent free apps are out there…which is great. The Blackberry store was pretty awful. Almost nothing free was decent for the Blackberry.
Other apps that I've installed.
Where - Uses GPS to locate local stores/shops/movies etc and has other location based features
Mechanic - A file browser, app killer and backup utility
Crickets - Makes cricket sounds :-)
Google Shopper - Can read bar codes and book/album covers
WiFi Buddy - Scans and manages wi-fi connections
Seesmic - A _great_ twitter client
S2 Calendar Widget - Option to the built in calendar widget
Assorted other widget toggles - single button widgets to turn on off silent mode/GPS/Wi-Fi etc.
The list of apps to try is just about endless.
I would tell you NOT to get into hacking your Android phone unless you are willing to deal with the consequences. As I was writing this, my phone locked up, likely due to the CPU clock settings I'm still fiddling with. To me, this is part of the fun. If you are an appliance type user, don't even bother doing this. You can lose your data, and possibly do permanent damage to your phone….so if you do this…don't come crying to me.
That's enough rambling for now.
---
---
blog comments powered by

Disqus