SDRMAX 3.0 and other ham tinkering
I haven't really updated much lately, just been busy playing with this or that.
Just got one of the Zero Five 10m 5/8 verticals in the mail. Man, this thing is built like a rock. It's actually a bit too solid as the quickie makeshift mast I was going to throw it up on will now have to be something a bit more substantial.
The base diameter tubing is roughly 1-9/16" O.D. and the thinnest is about 5/8" at the top. Very heavy quality aluminum and well put together construction quality for it's tuning ring matching system. I went with this one in the hopes of having a very solid build quality and so far so good. Can't wait to get it in the air, but I have to get myself a TV tripod to mount it on.
I've been tinkering around with the QS1R SDR GUI interface SDRMAX 3.0 again lately. I committed a bunch of changes to the project trunk for button layout changes, added filter options and also darkened the overall color scheme for some better contrast. I'm still amazed at all the work that the original author Cathy Moss put into this software.
I'm still barely just a hack with Qt and C++ so I've basically just been reverse engineering what she did and just poking about with superficial changes that I can follow and get to build properly.
The good news is that Qt 4.5.2 just got released and has fixed all the OpenGL font rendering issues that the Qt project claimed weren't broken with 4.5.1. Nice to know that at least when they won't admit any issues, they at least fix them. Now our project doesn't have to keep tarring up 4.5.0 to give to people who needed a clean build source until they fixed it.
A screenshot of the enhanced contrast and my own hacked in color scheme for the panadapter and waterfall in SDRMAX 3.0.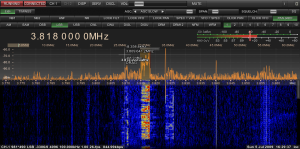 ---
---
blog comments powered by

Disqus